Land and Regulatory Services
Roy Northern specializes in all aspects of Surface Rights Acquisitions throughout the Western provinces and Canada's north. Successful land services and administration requires a broad understanding of industries and stakeholders, as well as an integrated strategy. The combination of land services offered by Roy Northern ensures the unique needs of every client can be readily met. As an extension of our clients' business, we take pride in representing them and share an invested interest in their overall success.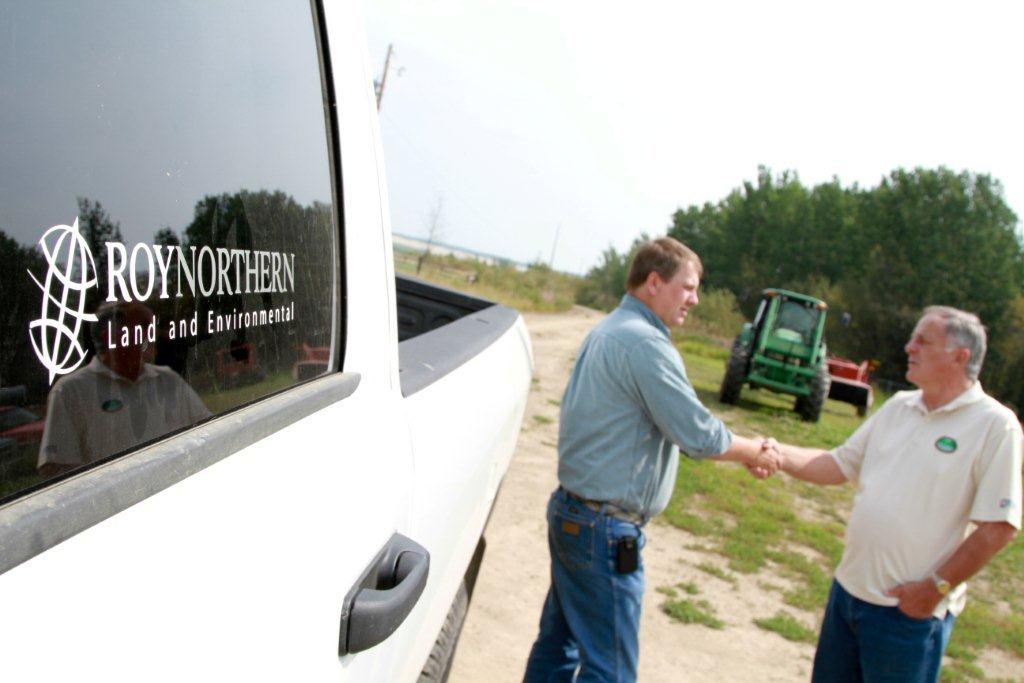 Acquisition of Surface Rights
Surface Lease and Pipeline Easement Acquisitions and Damage Settlements
Surface Rights Acquisition on Crown, Freehold and Federal CER,IOGC/INAC) Land
Surface Rights Board Applications, Hearing and Consultations (BC)
Alberta Land Rights Tribunal
Wellsite, Access Road and Pipeline Route Selection
Rental Reviews
Corporate Area Annual ERP Updates
Woodlot Negotiations
Notice of Work (MEM)
Emergency Response Planning
Personal Consultation

Field Ground Truthing
ERP Data Collection
Municipal and Utilities Acquisitions
Powerline Rights-of-Way
Gas/Water Co-op Easements
Renewable Energy – Wind / Solar Power
Landfill Sites/Mining and Aggregate Applications
Government Infrastructure – Road Widening, Bridge Repairs
Public Consultation/Regulatory Compliance
Alberta Utilities Commission (AUC) 
Alberta Energy Regulator (AER D56, D60)
BC Oil & Gas Commission (OGC)

Canada Energy Regulator (CER)

Indian Oil and Gas Canada (IOGC)

Ministry of Forests, BC (MOF)

Ministry of Land, Water, and Resource Stewardship, BC (MLRRS)
Application for Road Use, Facility Crossing, Workspace and Proximity Agreements
Administration of Agreements
Web based SharePoint hosting Third Party linelist, Client Accessible
Administrative Services/Document Preparation
Project Notification Packages (CER Section 322, Section 201; AER D56, D71; OGC)
Stakeholder linelists and associated mapping
Surface Lease and Right-of-Way Agreements
Release of Damages/Work Permits
Title Searches/Filing of Caveat
BC Title Registrations/Withdrawals/Assignments
Your Land Title and Survey Authority Liaison
Roy Northern acts as a Liaison between our clients and BC Land Titles. We can confidently register, withdraw, and assign various documents. We assist with the creation and execution of acquisition documents for interests in land.  
Our extensive knowledge of BC LTSA requirements, as well as the full support of our team for all aspects of client needs, makes the LTSA experience an easy one.
With the complicated change in the Crown registration process at the British Columbia Energy Regulator (BCER), we can simplify this step for you with our established signature connection. We can take care of this task for you. Contact us today for more details.
The below named examples are common documents and services that Roy Northern can assist you with:
Form C – Charge for Freehold and Crown Statutory Right of Way
Form C – Charge for Freehold Lease
Form C – Release (for partial release of blanket registrations or full release of charges)
Form C – Transfer of Assets
Form 17 – Name Change
Property Transfer Tax
Landowner Transparency Report creation & submission
Submit Agricultural Land Commission required SRW Notification
Acquire ALC/ALR Legal Notation on title acknowledgement of leases from BCER
Joint Submissions with Survey (e.g. ALC/ALR legal notations on title)

Obtain Tile searches including Registered Plans or Documents, BC Assessments, and Corporate Searches 
Reach out to our professional team and we will make sure your needs are met!